Description
Mizutani Scissors - ACROLEAF Wide 25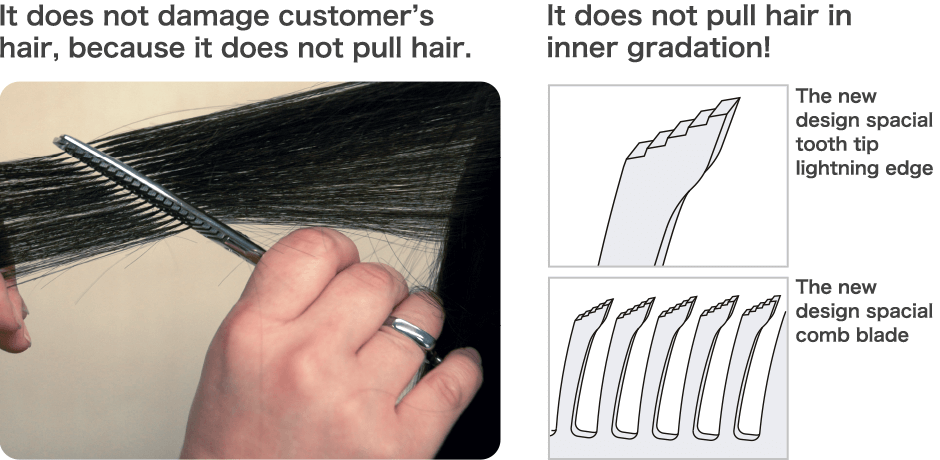 The ACROLEAF Wide Thinner offers both volume and texture control in one scissor, making it the perfect thinning scissor for bobs and layered wavy styles. By switching up the scissor cutting angle, you can control the cutting percentage. If you cut vertically to the section, cut percentage is less; cutting horizontally to the section reduces the volume of hair removed.
 
[Volume control & Texture control] in one thinning scissors, customer easily can set style again.
ACROLEAF Wide Thinning is an outstanding thinning scissors for bob style and layered wave such popular styles. You can use properly according to the style because it has both volume control and texture control in one scissors. This is a new concept thinning scissors "the cut ratio is changed by the angle of scissors." The way to use is easy. When you cut horizontality to the panel the cut ratio become less and cut vertically to the panel the cut ratio become high. This is very useful thinning scissors with the controllable cut percentage.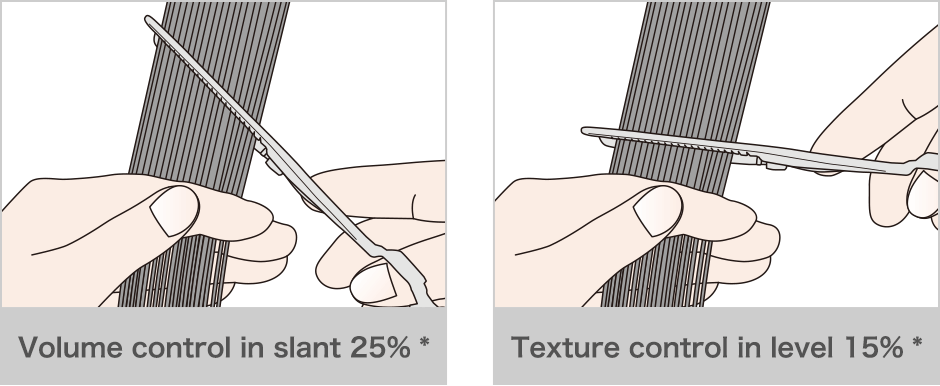 * The cut% is changed with the angle of M-25 thinning scissors.
"Smooth" & "Soft" cut feeling.
Furthermore, the special shaped comb blade and cutting blade that repeated improvement and evolved. It does not pull hair with the outstanding smoothness. And the new design comb blade teeth (the lighting edge) helps to get softer cut feeling. ACROLEAF Wide Thinning has been reborn as the superb thinner.
EXTRAMARISE


EXTRAMARISE® is a proprietary heat treatment ideally suited for haircutting scissors that was developed by MIZUTANI based on long years of accumulated data and experience. The same steel material can have totally different performance depending on the heat treatment used. Therefore, to maximize the special qualities of the rare metals (cobalt, molybdenum, vanadium, etc.) we've added to our products to the greatest extent possible, and achieve the ideal metal for scissors, (*hardening, tempering, sub-zero processing) and other complete temperature management procedures are essential. To bring out the distinct characteristics of materials, and manufacture a blade with the ultimate strength required for haircutting scissors, we at MIZUTANI have implemented our own proprietary heat treatment using the ideal temperature for scissors: EXTRAMARISE® processing.
ORGANIC DESIGN


The handles are so designed that they look nonmetallic, alive and organic. You may feel some warmth from the three-dimensional, twisted handles, and once touched, you would not like to part them from your hand.
DISK DRIVER


Compact and easy to turn, this is a flat type driver for UFO screws. This screwdriver is included with all scissors with the mark shown.
Payment & Security
Your payment information is processed securely. We do not store credit card details nor have access to your credit card information.