Description
Mizutani Scissors - BLACK-SMITH Solid

The BLACK-SMITH Solid are the result of an analysis done by two professors who specialized in Ergonomics and Metal Engineering, respectively. The center of gravity in this model has been shifted closer to the hand to prevent wobbling during cutting, while a unique hardening process based on thorough temperature management brings out the special characteristics of the materials making this a perfect all-around scissor. For barbering, we recommend 6.5 and 7.0.
A collaboration of these wild guys and professors!
The new Ph.D. collaboration monster SOLID is amazing!

When using scissors that can't fix the handle in place and don't have good balance, it takes extra effort to prevent wobbling. For stylists who open and close their scissors hundreds of times in a single day, even the slightest extra work can cause finger and joint pains. With the innovative new "G-SHIFT" design, the scissors' center of gravity is shifted closer to the hand, while keeping the balance set and avoiding increased centrifugal force during opening and closing operations. Together with the new handle that molds perfectly to your hand, these elements stabilize the blades, and prevent wobbling during cutting.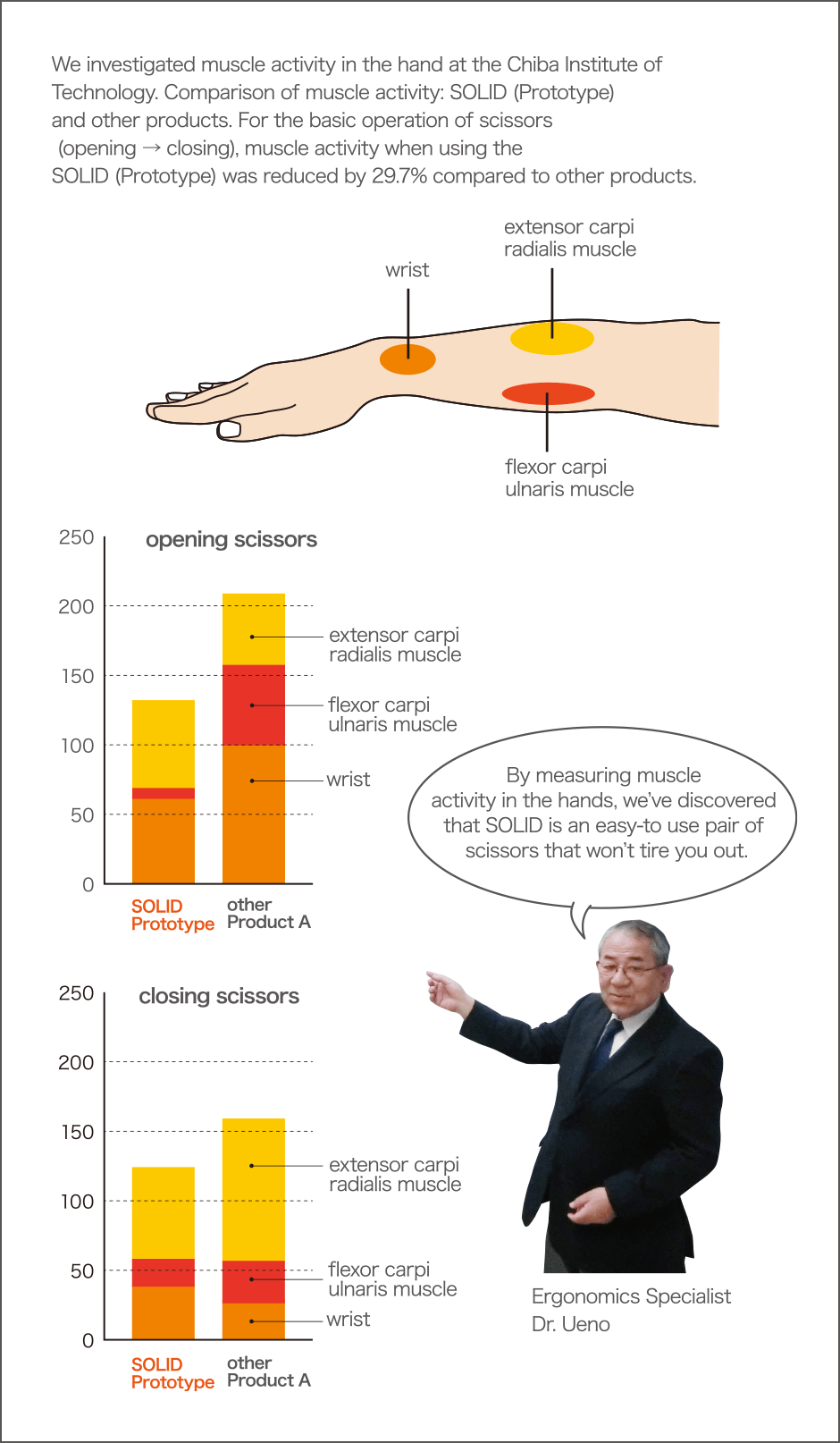 Source: Yukari Aoki, "Effects of the Way Styling Scissors are Held on Usability" (Ueno Laboratory, 2011 Graduate Study)

The joint section has the important role of joining the blade and the handle, and in these scissors, it's fitted with 9 precision ball bearings. Thanks to this design, the movement is smooth as silk.


The new solid uses our proprietary Extramarise® Processing, a unique hardening process based on thorough temperature management that brings out the characteristics of the materials to the greatest extent possible. This process gives the scissors the hardness they need, as well as sufficient durability. This time, with the cooperation of the metals engineering expert Dr. Asakura, we've analyzed the structure of the SOLID's raw material following the proper heat treatment processing. Comparing the SOLID's treated material with other untreated materials, the difference is obvious. The results of this analysis proved that heat treatments can make a huge difference in scissors' working life.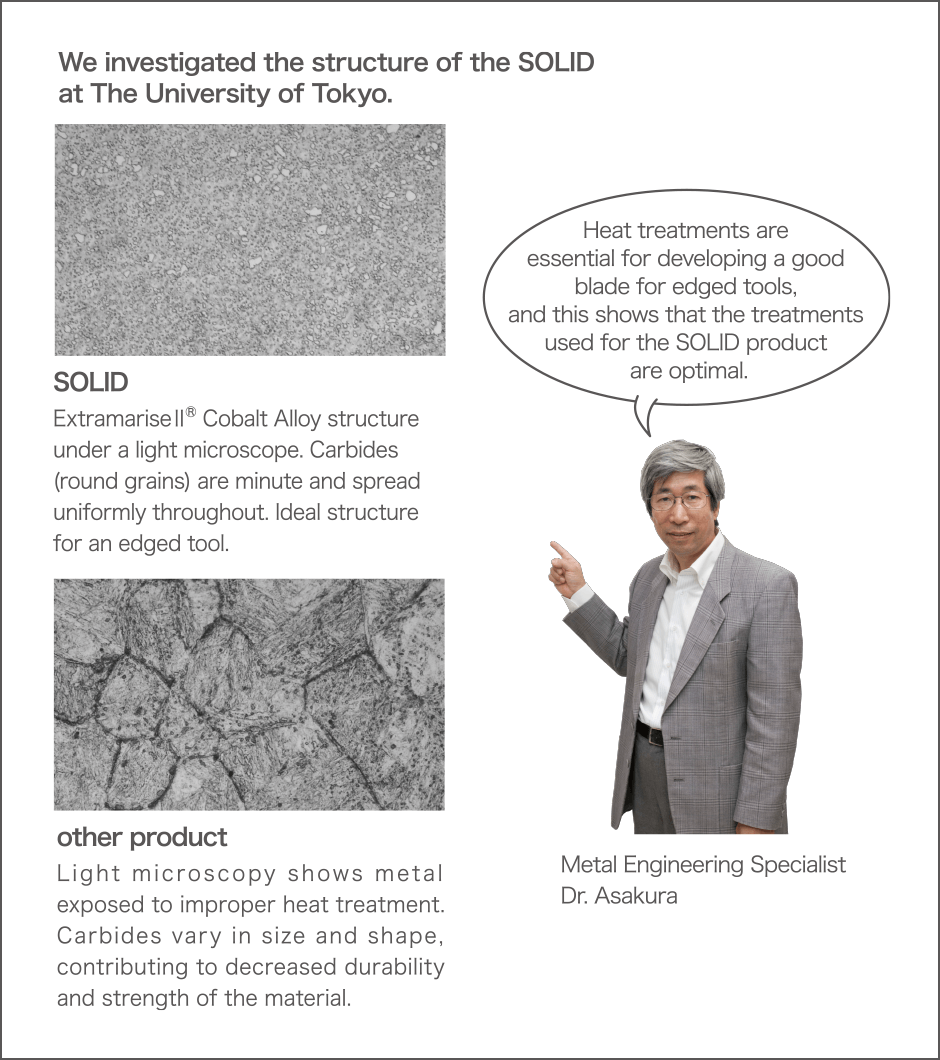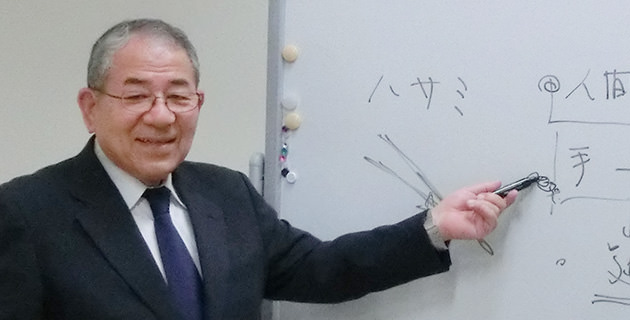 Chiba Institute of Technology, Professor of Department of Design
Yoshiyuki Ueno, Doctor of Engineering
Societies
: Member of the Board of Directors, Japan Society for Interior Studies Member of the Board of Directors, Japan Society for Office Studies Member of the Board of Directors, Japan Toilet Association etc.
Research Fields
: Measurement of human bodies and movements, physiological measurement; ergonomic design for chairs, seats, beds; ergonomic design for sink areas for kitchens and bathrooms; ergonomic design for writing materials and other tools; etc.
Publications
: "Building a School Bathroom Together: Removing the Barriers in Our Hearts" (School Toilet Research Society), "Illustrated Ergonomics" (Japanese Standards Association), "Interior Planning and Design" (Shokokusha)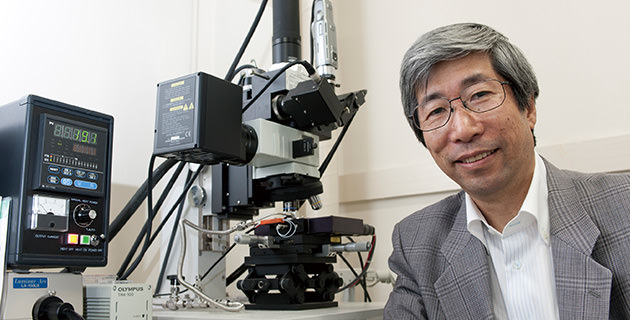 Department of Materials Engineering at the School of Engineering, The University of Tokyo (Part-time instructor at the Tobu College of Medical Technology)
Dr. Kentaro Asakura, Engineering
Research Fields
: Ultra-supercritical pressure power generation systems, multi-layer steel sheeting for automotive uses, material analysis and development using electron microscopes, etc.
Publications (Separate Volumes)
: Talking about Microscopes and Talking about Non-Woven Fabrics (Japanese Standards Association), 5-volume microscope series including Macro Observation and New Microscope Q&A and All About Edged Tools (Agne Gijutsu Center).
EXTRAMARISE


EXTRAMARISE® is a proprietary heat treatment ideally suited for haircutting scissors that was developed by MIZUTANI based on long years of accumulated data and experience. The same steel material can have totally different performance depending on the heat treatment used. Therefore, to maximize the special qualities of the rare metals (cobalt, molybdenum, vanadium, etc.) we've added to our products to the greatest extent possible, and achieve the ideal metal for scissors, (*hardening, tempering, sub-zero processing) and other complete temperature management procedures are essential. To bring out the distinct characteristics of materials, and manufacture a blade with the ultimate strength required for haircutting scissors, we at MIZUTANI have implemented our own proprietary heat treatment using the ideal temperature for scissors: EXTRAMARISE® processing.
THRUST BALL BEARING


These are small, precision metal ball bearings with excellent axial load-bearing ability. Due to their design, which enables radial load-bearing as well, scissors open and close smoothly, which both lessens burden on the hands and contributes to a long cutting life. With anti-rust properties and durability as a matter of course, these bearings are a Japanese-made product.
ORGANIC DESIGN


The handles are so designed that they look nonmetallic, alive and organic. You may feel some warmth from the three-dimensional, twisted handles, and once touched, you would not like to part them from your hand.
DISK DRIVER


Compact and easy to turn, this is a flat type driver for UFO screws. This screwdriver is included with all scissors with the mark shown.
Payment & Security
Your payment information is processed securely. We do not store credit card details nor have access to your credit card information.