Description
Mizutani Scissors - BLACK-SMITH Twig
The Black-Smith Twig aka "Twiggy" was designed after taking the distance and position measurements of the thumbs and ring fingers of over 300 stylists. It has a slender body and is extraordinarily comfortable to hold and easy to flip and palm. The "cat's-eye" blade is pointy for precision, yet retains the power for slide cutting. The matte black titanium finish is ideal for those allergic to metal - it is also highly resistant to corrosion and surface scratching.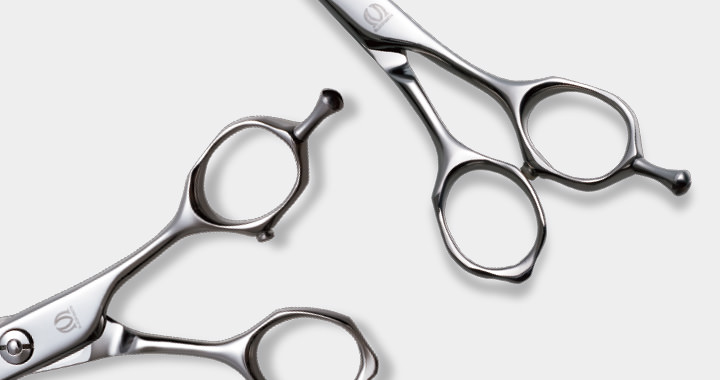 "Please make like this!"
Many female hair stylists' opinions are put into the scissors.
"I want scissors that are light and fit my hand." The Twig is the realization of this wish. Based on the results of our research of hair dressers working in salons all over the world, we have thoroughly improved even details such as the blades, the width of the handles, and the manner in which they withdraw from the hair. Thus was born a pair of scissors with excellent balance and flexibility. The narrow point of the blades makes the Twig ideal not only for blunt-cut, but also for point-cut and thin-cut. And when a light expression is your goal, these scissors are a handy tool. Recommended for those who prefer narrow scissors or for men who have small hands, this range of scissors also features an "extension" model to meet the needs of users who want a slightly wider handles.
EXTRAMARISE


EXTRAMARISE® is a proprietary heat treatment ideally suited for haircutting scissors that was developed by MIZUTANI based on long years of accumulated data and experience. The same steel material can have totally different performance depending on the heat treatment used. Therefore, to maximize the special qualities of the rare metals (cobalt, molybdenum, vanadium, etc.) we've added to our products to the greatest extent possible, and achieve the ideal metal for scissors, (*hardening, tempering, sub-zero processing) and other complete temperature management procedures are essential. To bring out the distinct characteristics of materials, and manufacture a blade with the ultimate strength required for haircutting scissors, we at MIZUTANI have implemented our own proprietary heat treatment using the ideal temperature for scissors: EXTRAMARISE® processing.
ORGANIC DESIGN


The handles are so designed that they look nonmetallic, alive and organic. You may feel some warmth from the three-dimensional, twisted handles, and once touched, you would not like to part them from your hand.
DISK DRIVER


Compact and easy to turn, this is a flat type driver for UFO screws. This screwdriver is included with all scissors with the mark shown.
Payment & Security
Your payment information is processed securely. We do not store credit card details nor have access to your credit card information.