Description
Mizutani Scissors - SWORD Dama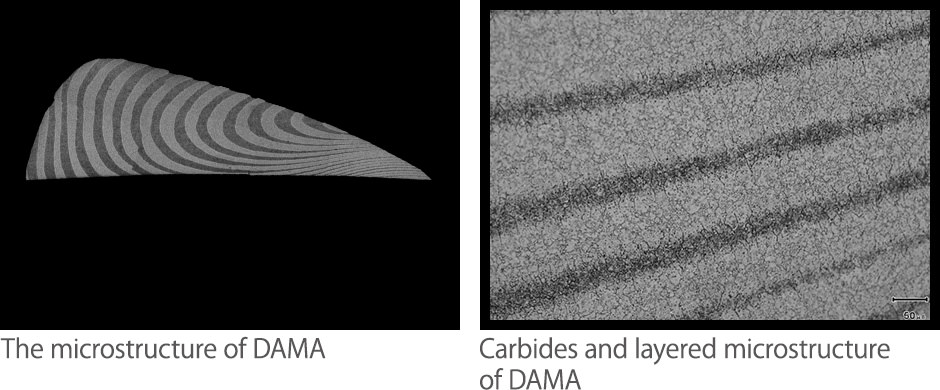 The SWORD Dama is truly scissors of quality and beauty. The fame of the Damascus steel goes back to the Persian empire where the fabled process produced instruments that were tough, resilient and sharp, with beautiful layering patterns suggestive of a flowing stream. Mizutani has restored this lost art using modern, patented CMC micro powder steel to create one-of-a-kind shears that are both exceptional tools and beguiling pieces of art. Both the D-05 and D-07 models are made with Damascus CMC micro powder steel, while the handle is made with Mizutani high quality stainless to produce a more attainable shear. 
The mysterious pattern woven from the tough steel.
"DAMA" comprising of two different types of minute powder (Powder Damascus Alloy; patented manufacturing method). Everything including the inside of the blade is constructed from super high density micro powder metal. Using this special material makes the scissors sharper and stronger. Furthermore, even though our special technology achieved equal hardness in the two different materials used in the blades, the difference in their constituents maintains their sharpness even after long-term use. The pattern of "DAMA" is not simply decorative or the result of printing or taping together either. This clear pattern appears—even on the edge and reverse side of the blade—as a result of our special processing. This provides undeniable proof that all of the components including the insides of the blades are made from the same steel.
POWDER DAMA


DAMA® (Powder Damascus Alloy / patented manufacturing method) is made from two different types of fine powders. Each contains different components of powdered steel, and through a complicated mixture, it is cast in a super high density form. As a result, not only the front, but also the back, and even the interior are all the same Damascus steel. This complex and laborious manufacturing method is an international patent. Also, through the special hardening technique, the two raw materials of high molybdenum alloy and high chromium alloy are combined and tempered to identical hardness. It remains sharp and effective for haircutting, even after long-term continuous usage. The rippling patterns of DAMA® are brought out and made more prominent through a proprietary processing technique. This beautiful material also features an astonishing strength, and is used for our DAMA® series.
CARBON RESIN BEARING


The bearings made of carbon-contained resin is used that is excellent in friction and abrasion, and several pieces are mounted inside the pivot screw, to produce the even and smooth feelings in opening and closing the blades.
RESIN BEARING


These bearings are made by shaving each of them one by one, using a resin material with excellent mechanical properties. Their smoothness and flexibility makes for an ideal cutting experience, and protects the scissors and screws from wear and tear. Our bearings are gentle to both our scissors and their users.
ORGANIC DESIGN


The handles are so designed that they look nonmetallic, alive and organic. You may feel some warmth from the three-dimensional, twisted handles, and once touched, you would not like to part them from your hand.
Payment & Security
Your payment information is processed securely. We do not store credit card details nor have access to your credit card information.